Create Indoor Garden Vignettes
As living and breathing works of art, houseplants always make your home look good. Take things a step further with some intentional indoor garden decorating, and houseplants can make your home look fabulous.
One great way to showcase the beauty of indoor plants is to use them to create vignettes. Here's how:
1. When designing a scene with houseplants, use the design principle of three. In the scene shown below, there are three African violets of varying sizes.
(Photo, HealthyHouseplants.com) Buy your own mini African Violets from Logees!
2. Pay careful attention to color scheme. Use similar or complementary flower and foliage colors and consider hues. The containers and accessories in the above vignette match the plants in color and style. In the plant by the window scene below, the bright primary colors of the window frame and walls contrast nicely with the deep green of the plant to the left, while the picture frame green border matches the plant's foliage.
3. Add a touch of whimsy to your houseplant vignette to bring the scene to life. Not only have I added a little froggy hanging on for dear life in the African violet trio photo, you'll notice I chose one with a slight smirk on his face. The flowers are beautiful, but he adds a conversation piece.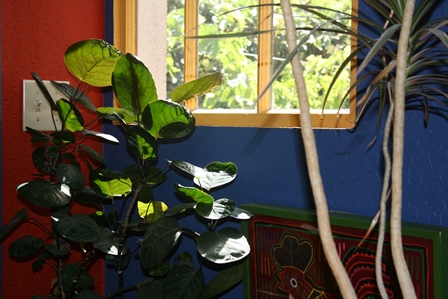 (Photo, HealthyHouseplant.com)
4. Dare to dazzle. Match stunning colors, shapes and forms. The form of the branching of the dracaena to the right in the above photo echoes the windowpanes. The matching vibrantly colored purple African violet and orchid combo below catch the eye the moment you walk into the room.
(Photo, HealthyHouseplants.com)
When adding vignettes to your indoor garden, most importantly stretch your own personal sense of style. It's by asking what if and experimenting that you come up with your best houseplant vignettes.